"…We will tell the next generation the praiseworthy deeds of the Lord, his power, and the wonders he has done." "…So the next generation would know them, even the children yet to be born, and they in turn would tell their children. Then they would put their trust in God and would not forget his deeds but would keep his commands." Psalm 78:4, 6-7
Exciting things coming this Fall...
God is on the move! Be on the look out this coming Fall as we have plans to open our new Youth Center here at The Naz!
The building is in the process of being transformed into a modern and multi-functional Youth Center that will allow us to greatly expand youth ministries to young people here at The Naz and our community. Upon completion, the new "Youth Center" will be divided up into a cafe lounge area, a worship/theatre space, a field house, a gaming area, and an upstairs classroom setting.
Our goal is to better serve the spiritual, physical, social, and emotional needs of both the young people from our church and the youth of our community. We envision a building that is used daily for spiritual enrichment, after-school programs, mentoring, sports, performing arts, recreation, and as a safe place for youth to gather that enhances their social opportunities.
Our Vision for this Youth Center
The ministry that will happen in our Youth Center is going to be incredible; we cannot wait to see how God shows up in the lives of our students, their families, their friends, and you as we step out in faith for what God is going to do. Here's a look at how we envision this building being used throughout the week and year:
EACH WEEK:
We intend to have the main purpose of the building to be an afterschool center for students from all across Livingston county, but our biggest ambition is to reach students across the street at Brighton High School and down the road at Brighton Middle School.
We'll also have an incredible space for our services for middle school & high school out at the Youth Center. As of now currently, both of these ministries have been happening in spaces that really aren't designed for their demographic. The building won't sit dormant outside of these times either, We hope to add intentional spaces in our calendar to have weekend hangouts for students, young adult gatherings, nighttime activities like small groups, tournaments, clubs & more!
YEAR-ROUND:
This space is going to allow us to hold plenty of outreach events through all seasons. In the fall we imagine having tailgate parties, all-nighters, or a student revival. Winter could bring Superbowl parties and Valentine events, Arts and mission-focused events in the spring, and food trucks in the summer. We can't stop imagining the possibilities this project would bring for us.
All of this is going to allow us, as a church, to reach the Next Generation for years to come. We truly believe that this is God's will for our church and community, for students to find a home where they can be themselves, ask questions, and find hope in Jesus Christ.
Schematics: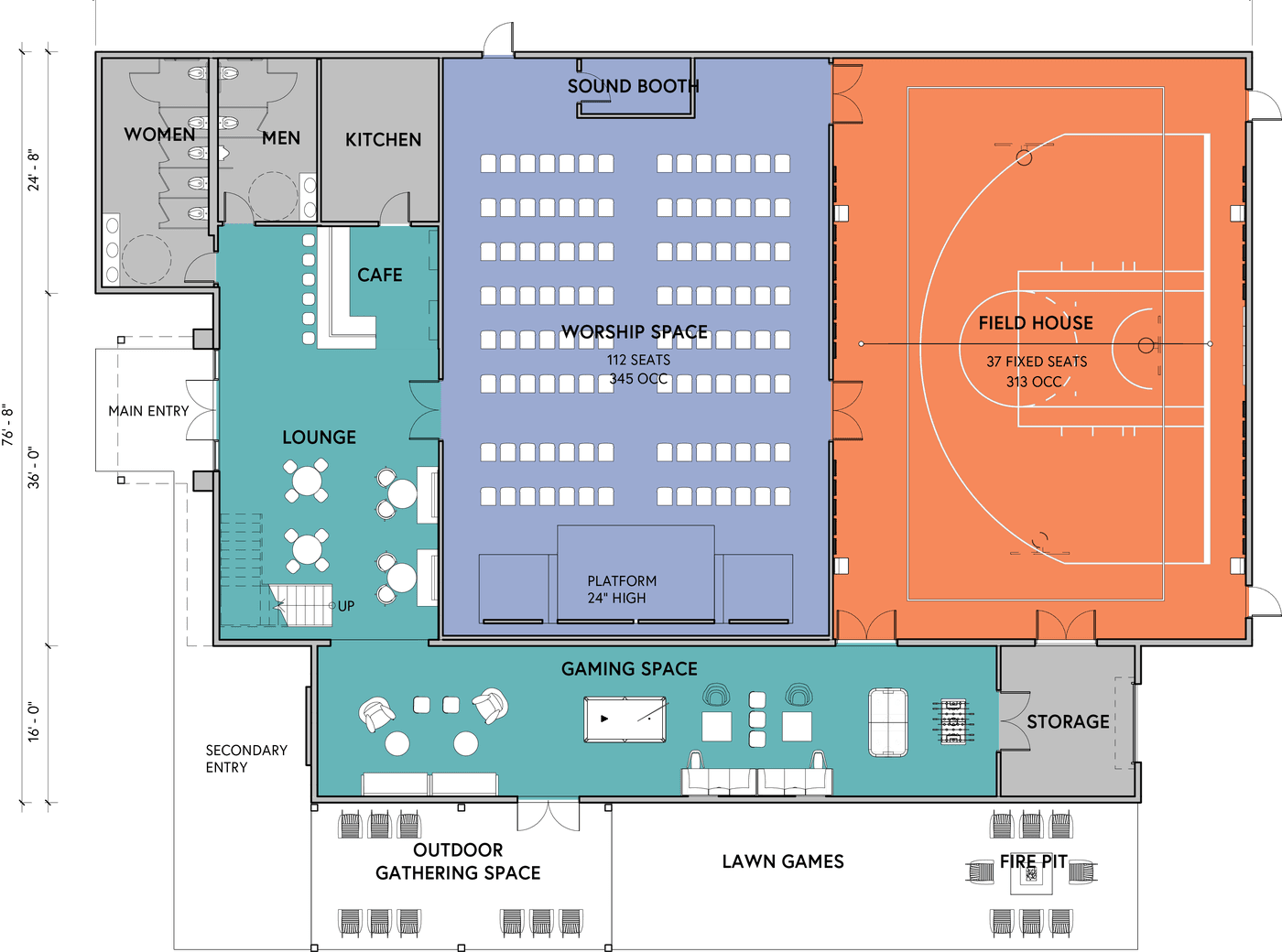 Concept Drawings & Design Inspiration: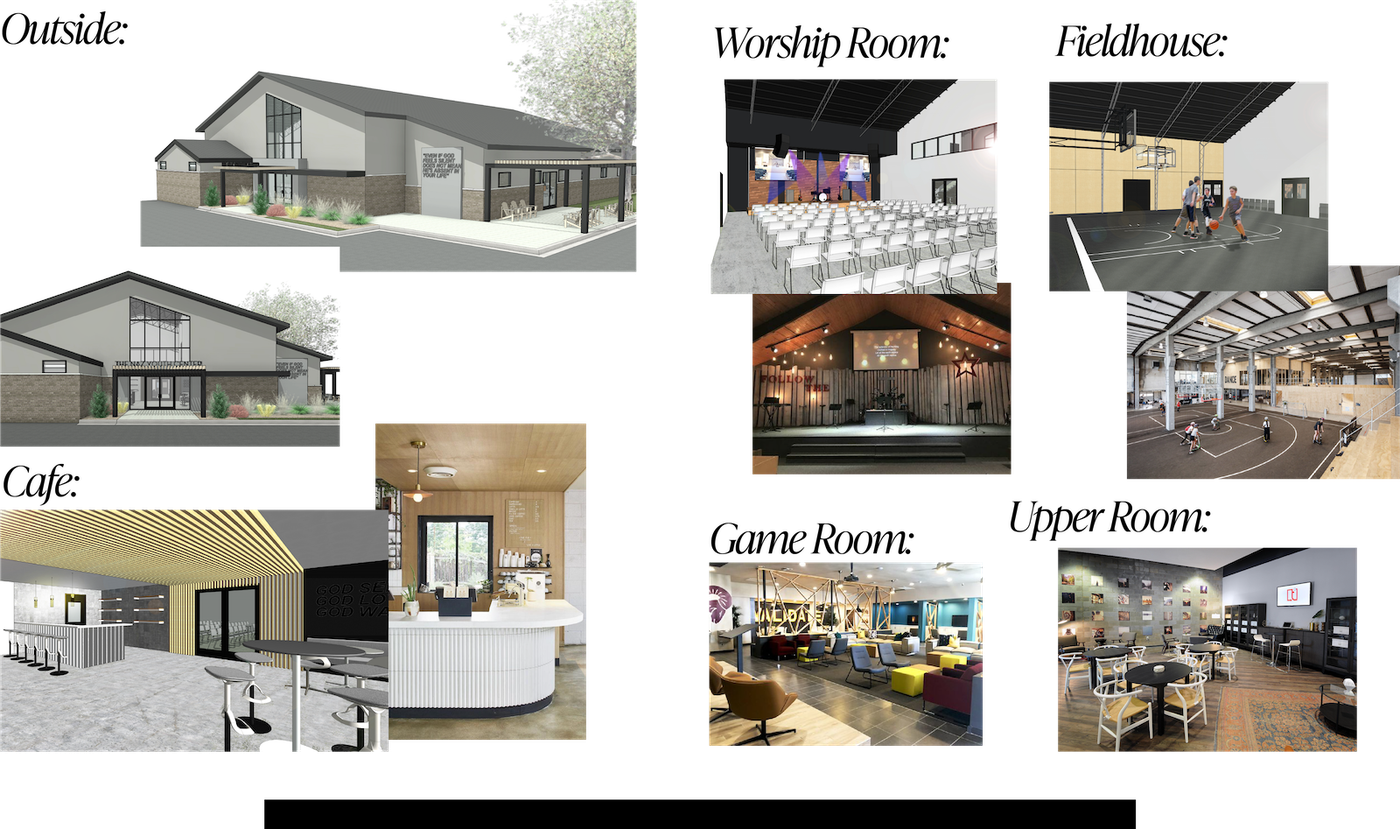 We Asked Students...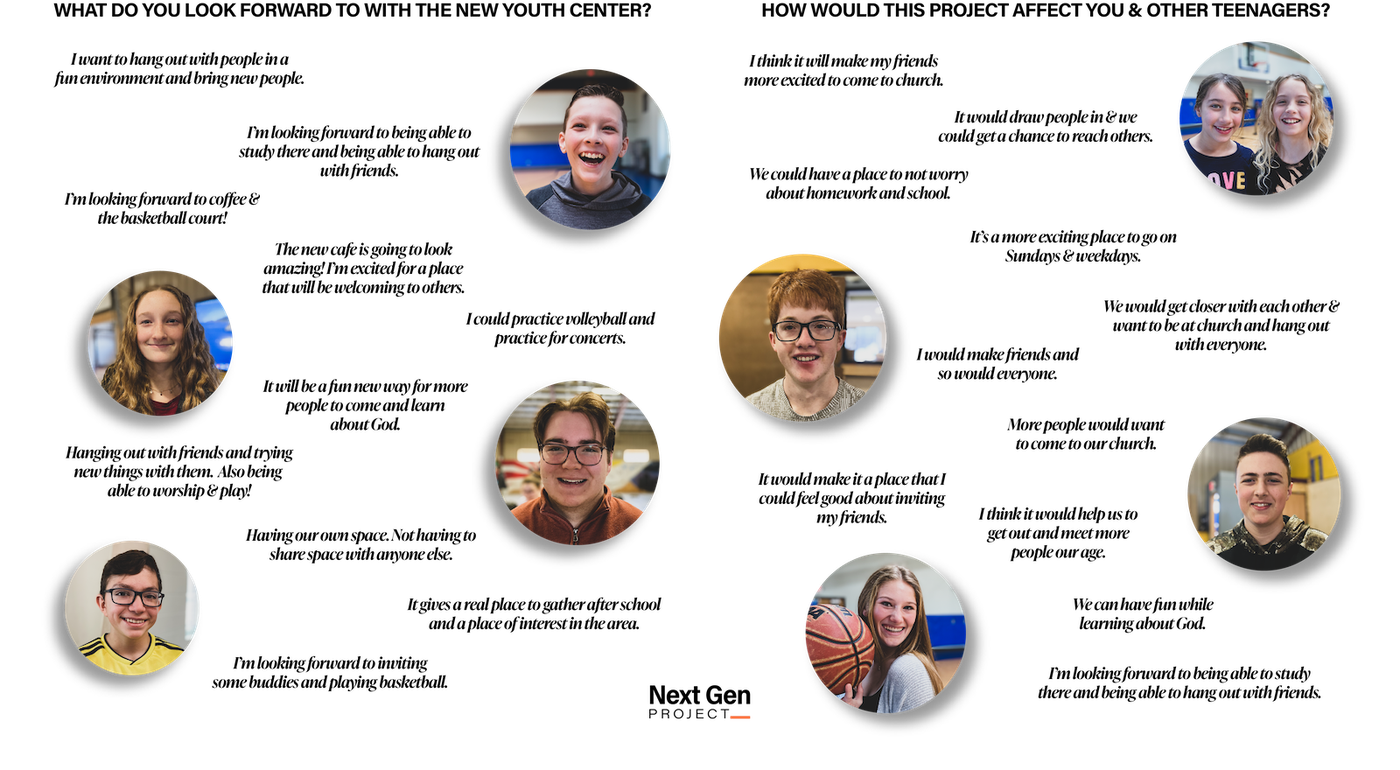 Want to Give?
Our hope is that people will see the vision and the impact this Youth Center could have on our young people. Consider being a financial partner and help support our youth efforts here at the Naz. We are invested in our next generation and encourage you to do the same.
Thank you for your generous investment in the next generation!
|| Not equal giving but equal sacrifice ||