"…We will tell the next generation the praiseworthy deeds of the Lord, his power, and the wonders he has done." "…So the next generation would know them, even the children yet to be born, and they in turn would tell their children. Then they would put their trust in God and would not forget his deeds but would keep his commands." Psalm 78:4, 6-7
The Vision
God is on the move! Rachelle and I are so excited to be able to serve with you here in Brighton. Over these past 16 months, we have seen the depth and strength of your commitment and determination as together we have persevered through uncertainty and adversity. I have been so impressed by the way so many have stood in strong support of your church family throughout this difficult period. Despite everything we have faced, God has blessed us with spiritual vitality, financial health, a broadening family base, and a fresh vision for a bright future.
In light of the aforementioned realities, and sensing the compelling call of the Holy Spirit to act, we are launching into a Capital Stewardship Campaign to raise the resources we'll need to accomplish the "Next-Gen Project." The passion behind this calling is defined well in Psalm 78:4 where it says, "…We will tell the next generation the praiseworthy deeds of the Lord, His power, and the wonders He has done." We strongly believe that passing the faith along to the next generation is a vital responsibility at which we cannot afford to fail. In response to this reality, the purpose of the "Next-Gen Project" is to enable us to accomplish two things: First…To better reach, retain, and grow our young people here at The Naz. Secondly…To more comprehensively serve a broader, more diverse percentage of the youth of our community.
After a thorough evaluation of our current efforts, several clear weaknesses in our present youth ministry paradigm become apparent. 1. The skate park was ministering to an ever-shrinking, less spiritually interested, niche (exclusively male) percentage of youth. That narrow, singular focus on skating severely limited outreach options to the other 95% + of the community youth population. 2. Despite large numbers of infants-children in overflowing Naz classrooms, there has been a consistent and alarming trend of losing these young people as they enter the older grades into high school. Our drop-out rate between the elementary ages and high school has been near 80% for some time. 3. The youth in our church have no designated space to call their own.
The rear building is now primed and ready to be transformed into a modern and multi-functional Youth Center that will allow us to greatly expand youth ministries to young people here at The Naz and our community. Upon completion, the new "Youth Center" will be divided up into a cafe lounge area, a worship/theatre space, a field house, a gaming area, and an upstairs classroom setting. Our goal is to better serve the spiritual, physical, social, and emotional needs of both the young people from our church and the youth of our community. We envision a building that is used daily for spiritual enrichment, after-school programs, mentoring, sports, performing arts, recreation, and as a safe place for youth to gather that enhances their social opportunities.
As you can tell, we are incredibly excited about where God is leading us! The opportunities for ministry upon the completion of this project are endless. The eternal destinies of young people truly do hinge on our willingness to make the investment in their spiritual futures. Please join us in prayer, giving, and support as we accomplish the "Next-Gen Project" together!
Gratefully Yours,
Pastor Gregg Davis
The Challenge
Vision always comes with a challenge. How do we accomplish what God is calling us to do? What steps must be taken to make the vision become a reality? Are we willing to make the sacrifices necessary to fulfill the "Next-Gen Project" that we believe God has set before us? These are all important questions.
We know that accomplishing the "Next-Gen Project" will require us to give, not just of our time and talents, but of our money as well. And so the first thing we would ask you to do is to pray. Pray honestly and earnestly about how God would have you respond to this challenge. Ask God to lead you in determining how much you could commit, over and above your regular giving, for the next 12 months.
Once you've prayed, respond in obedience and faith to the voice of the Holy Spirit as He leads your heart. We can't all give the same amount, but we all can sacrifice with the same obedience to God. In fact, Scripture repeatedly teaches that God blesses both obedience and faith. Hebrews 11:6 says… "And without faith, it is impossible to please God." Our confidence in taking on this "Next-Gen Project" is that our faith-led obedience will be the catalyst that propels us to meet the challenge that God has set before us.
Remember…Each of us will respond in a way proportionate to how God has provided. It's not about equal giving, but equal sacrifice. Sacrificial giving means that all of us, regardless of income or net worth, will need to be willing to give up something, rearrange our priorities, and change our lifestyle in some way. For some, that may be a $500 gift. For others, it may be a $5,000 gift. And for still others, it may be $50,000 or more.
While it is true that buildings themselves don't change lives, what happens inside them certainly does. Our hope is that together we can recognize the privilege we have of being part of leaving a legacy for our church and community for the next generation. Please join us as together we make a lasting investment through the "Next-Gen Project!"
Sincerely,
The Naz Church Board
The Ministry
What a joy it is to be part of God's church during a season like this! As the High School Youth Pastor here at The Naz, I couldn't be more proud of our church when it comes to how high a priority we're choosing to place on our middle and high school students. The ministry that will happen in our Youth Center is going to be incredible; I cannot wait to see how God shows up in the lives of our students, their families, their friends, and you as we step out in faith for what God is going to do. Here's a look at how we envision this building being used throughout the week and year:
EACH WEEK:
We intend to have the main purpose of the building to be an afterschool center for students from all across Livingston county, but our biggest ambition is to reach students across the street at Brighton High School and down the road at Brighton Middle School. This afterschool, function will run from 2:30-6:30 pm Monday-Friday and we intend to have our cafe space, game room, outdoor space, fieldhouse, study hall, and worship room all as an active part of that time. We'll also have an incredible space for our services for middle school & high school out at the Youth Center. As of now currently, both of these ministries have been happening in spaces that really aren't designed for their demographic. The building won't sit dormant outside of these times either, We hope to add intentional spaces in our calendar to have weekend hangouts for students, young adult gatherings, nighttime activities like small groups, tournaments, clubs & more!
YEAR-ROUND:
This space is going to allow us to hold plenty of outreach events through all seasons. In the fall we imagine having tailgate parties, all-nighters, or a student revival. Winter would bring Superbowl parties and Valentine events, Arts and mission-focused events in the spring, and food trucks & cornhole tournaments in the summer. We can't stop imagining the possibilities this project would bring for us.
All of this is going to allow us, as a church, to reach the Next Generation for years to come. I truly believe that this is God's will for our church and community, For students to find a home where they can be themselves, ask questions, and find hope in Jesus Christ.
Looking Forward,
Pastor Brandon Hamilton
Schematics: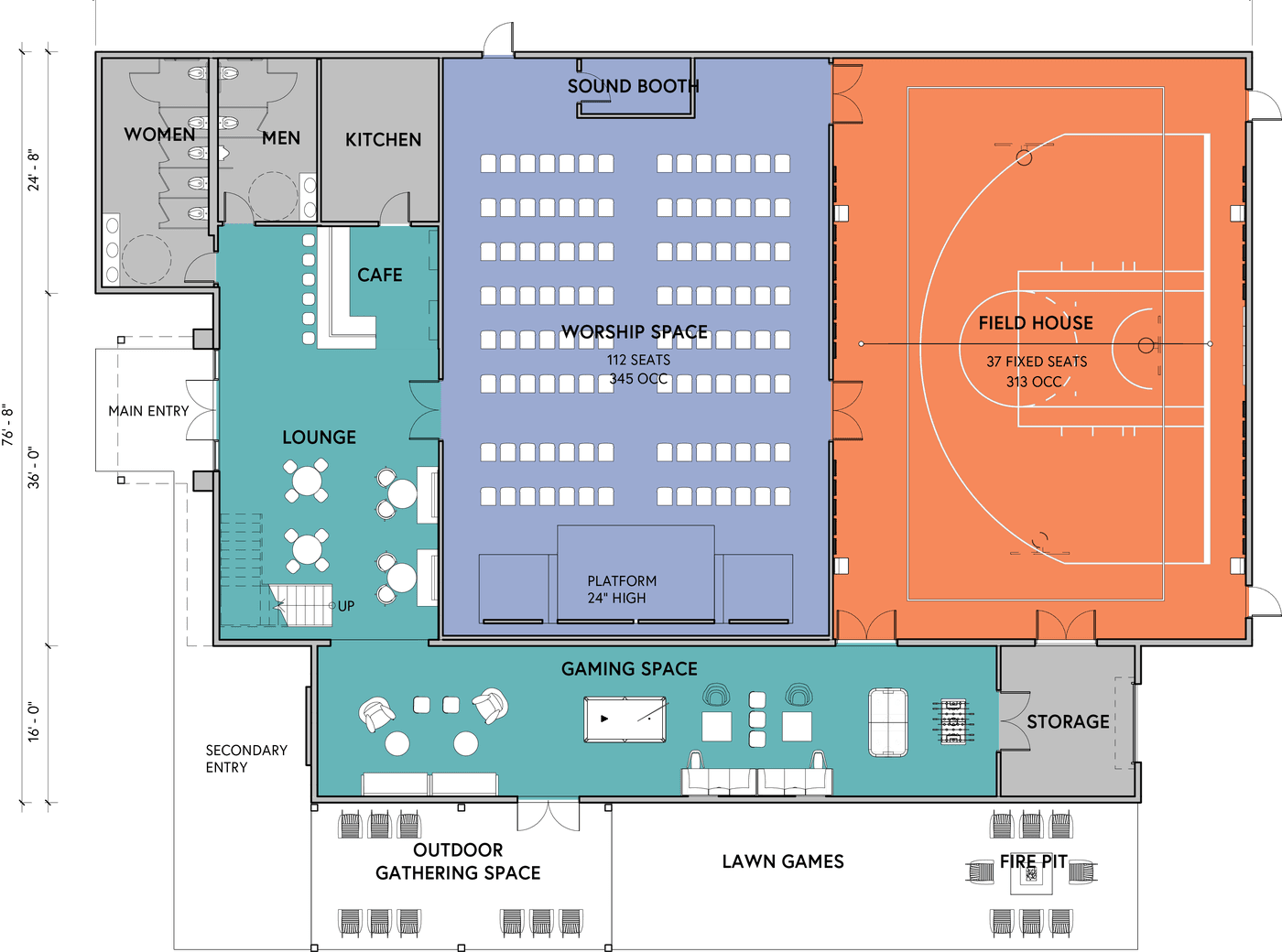 Concept Drawings & Design Inspiration: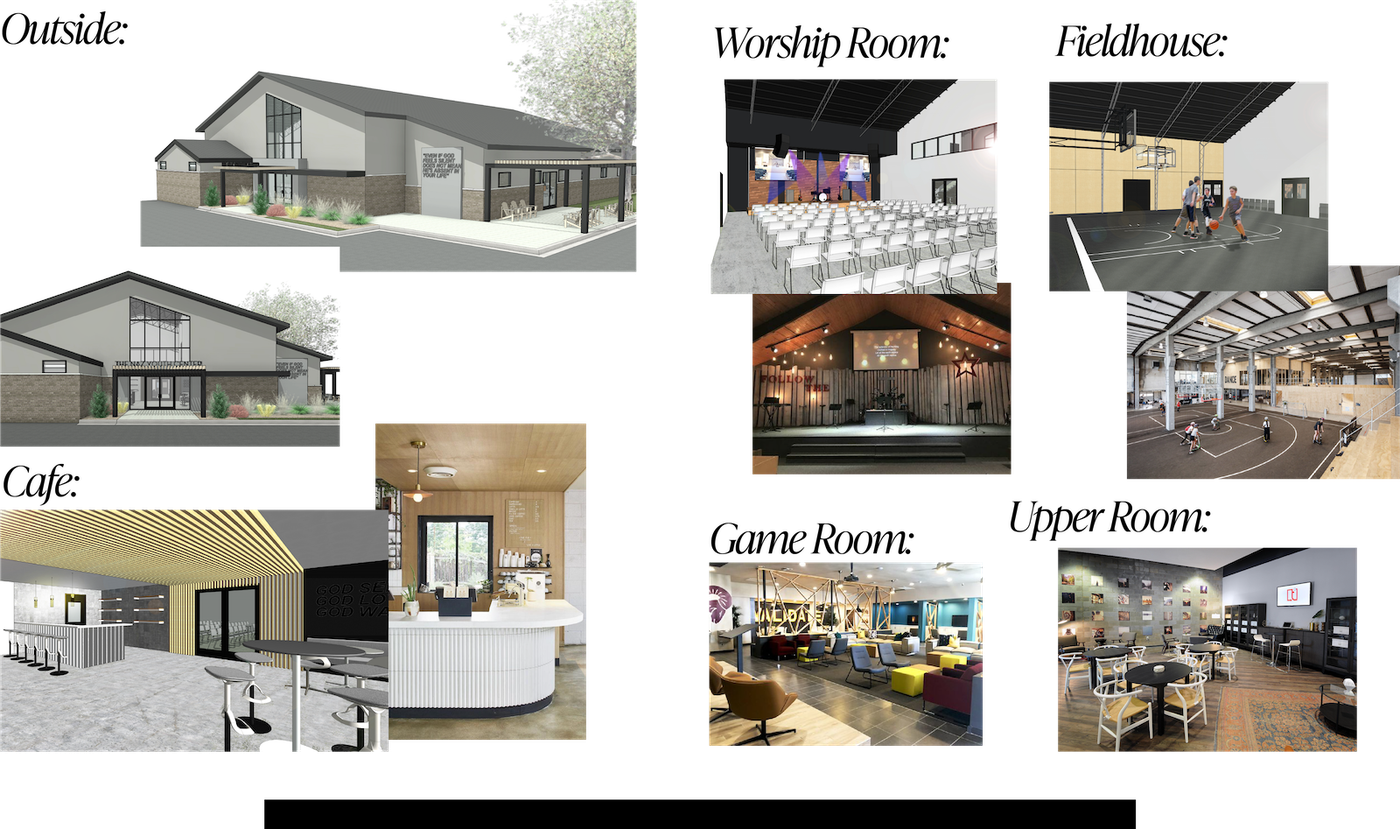 We Asked Students...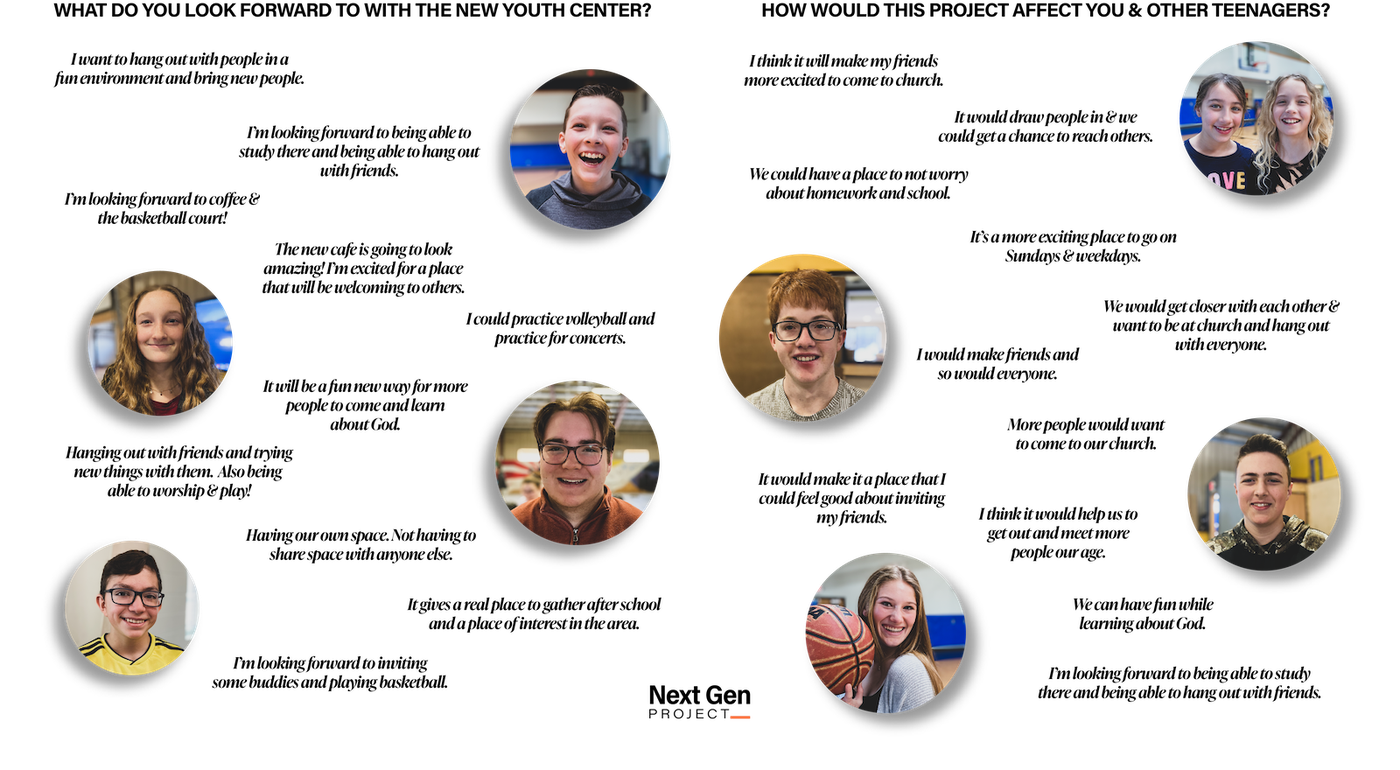 FAQ's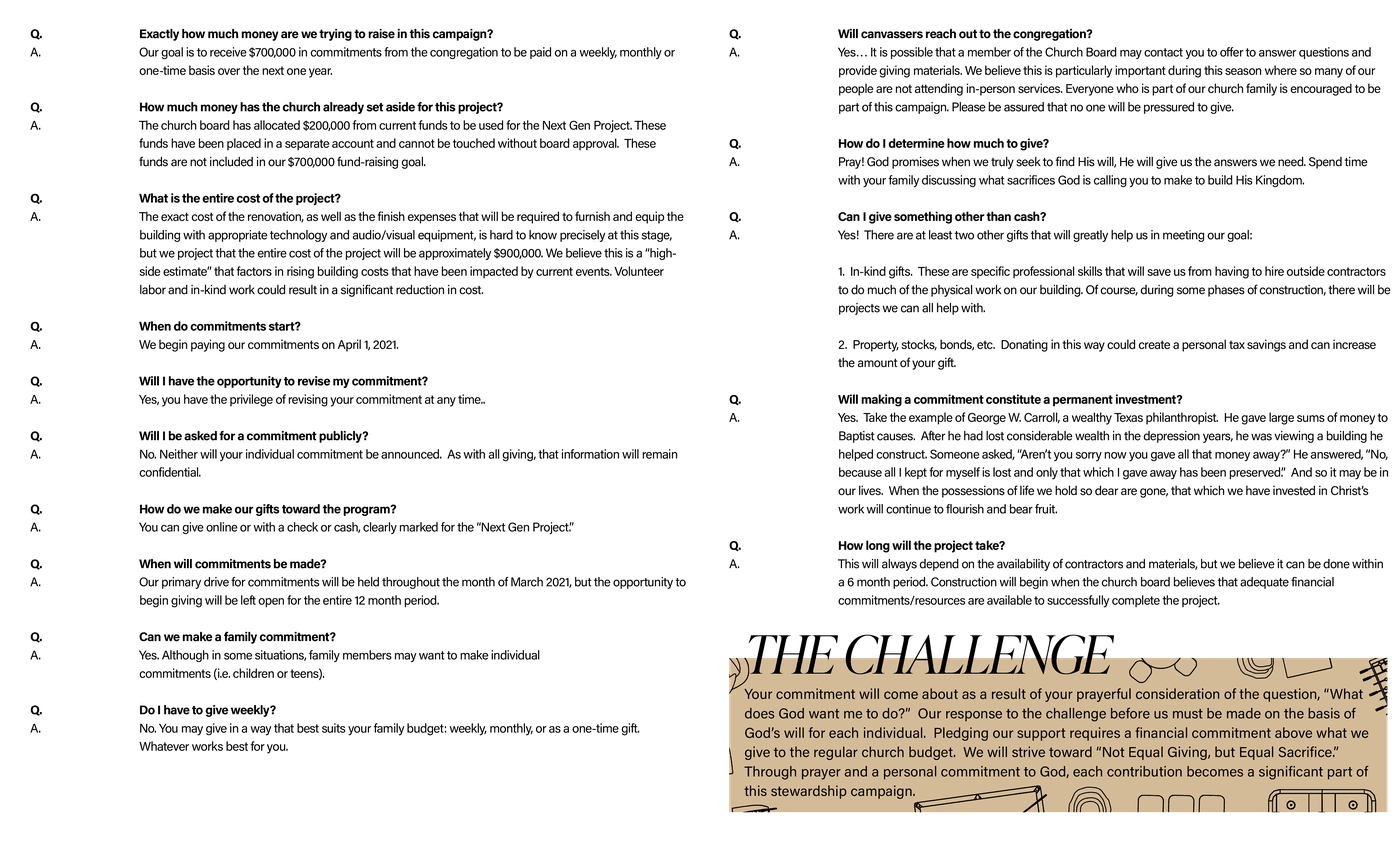 Giving Options:
There are a number of patterns and amounts to give to the Next-Gen Project. Our hope is that each one will prayerfully consider what a true "faith commitment" would look like for them. Listed below are some sample giving options that might help you better picture what your gift would look like over a one-year period. Thank you for your generous investment in the next generation!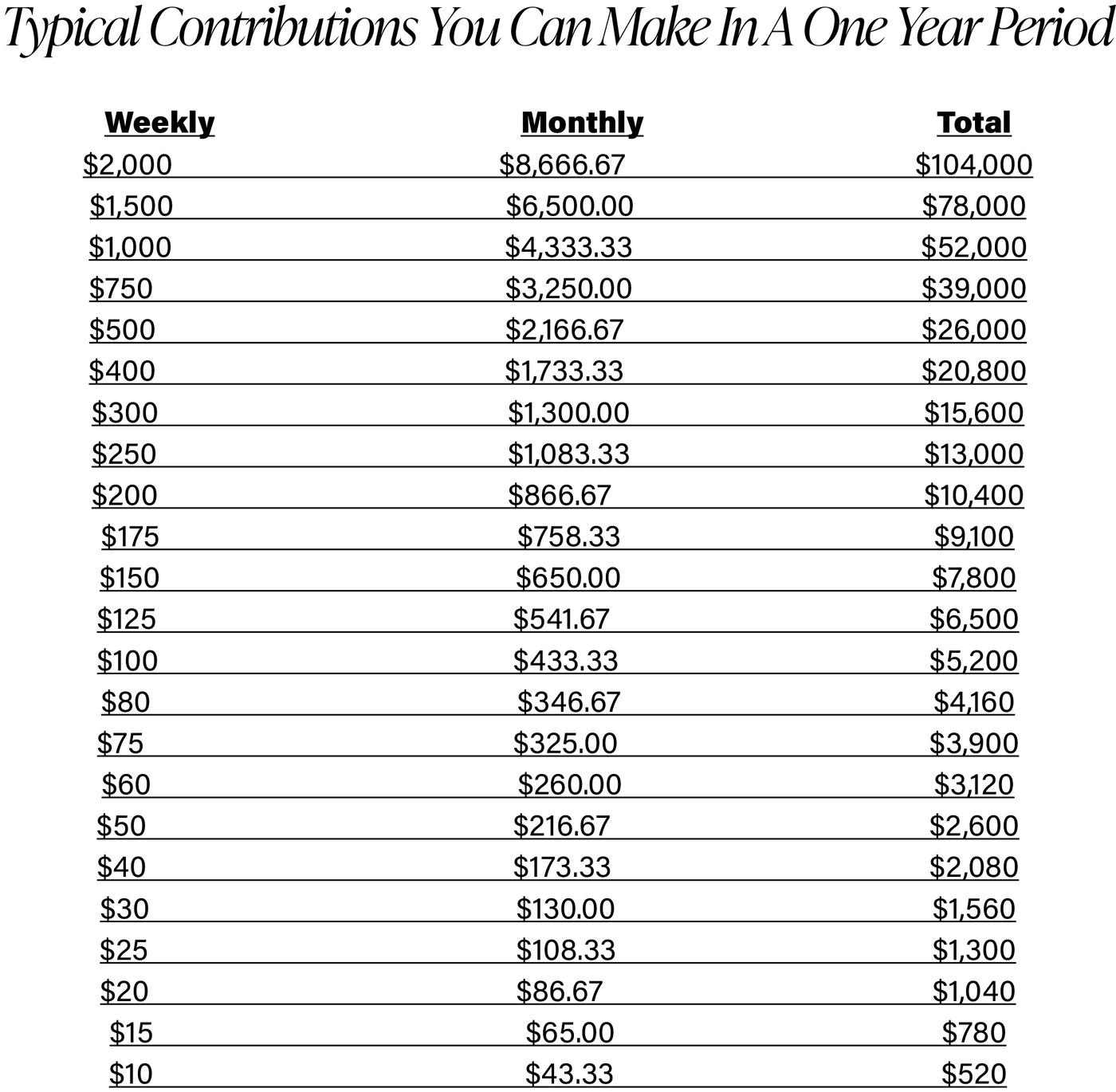 || Not equal giving but equal sacrifice ||
Read the booklet: